Posts for: February, 2014
By American Dental Professionals
February 21, 2014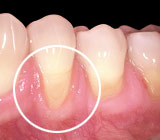 The "wear and tear" nature of gingival (gum) tissue enables it to readily handle the chewing and biting actions of eating and still perform its most important function: protecting the roots of your teeth from decay and environmental exposure. But while they're resilient, they're not invincible: it's quite possible for them to lose their attachment to a tooth and begin to recede, leaving the root surfaces exposed.
Gum recession can occur for a number of reasons: poor oral hygiene; over brushing and flossing; malocclusion (a poor bite); personal habits, like biting down on hard foreign objects; or poorly fitted dentures or other appliances. From a genetic point of view, people with thinner gingival tissues are more prone to gum recession than those with thicker tissues. Whatever the cause, the result is the same — the exposed tooth becomes more sensitive to environmental factors (such as heat, cold, abrasion or erosion). More importantly, it now has a higher susceptibility to decay and disease, leading to its possible demise.
But there may be a solution. Although the original tissue may be lost, periodontal plastic surgery can restore a protective layer of tissue to the tooth, and at the same time give you back the smile you once had.
From the Greek word "plastik" for sculpting or modeling clay, plastic surgery procedures restore both form and function to a bodily structure. While the term "plastic surgery" can apply to other procedures in medicine such as rhinoplasty or face lifts, the periodontal procedure particularly involves grafting similar tissue to an area of recession, and then "shaping" it into a natural, life-like form.
To graft means to remove tissue from a donor site and attach it to a recipient site. In the case of periodontal tissue, the recipient patient can also be the donor with the tissue coming from some other area of the same mouth (the graft can also come from another human or an animal). Using advanced techniques and a touch of artistry, the surgeon positions and sutures the graft in place.
The result: not only a new protective covering for your tooth, but a more pleasing appearance when you smile.
If you would like more information on periodontal plastic surgery, please contact us or schedule an appointment for a consultation. You can also learn more about this topic by reading the Dear Doctor magazine article "Periodontal Plastic Surgery."
By American Dental Professionals
February 05, 2014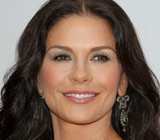 She received an academy award for best supporting actress in Chicago (2002); she regularly stars in big Hollywood films like Oceans Twelve and Side Effects. And she's been named one of People magazine's "most beautiful people" of the year… a total of five times so far. According to big-screen heartthrob Antonio Banderas, "She has one of the most beautiful close-ups in cinematography today."
So would it surprise you to learn that Catherine Zeta-Jones had a little help from cosmetic dentistry along the way? In her childhood, the actress said, "I was teased because I had a really flat-looking nose, and before I got braces, my teeth used to stick out a bit." According to press reports, she has also had various dental treatments to make her teeth look whiter and more even.
Because she's been in the spotlight since a young age, Zeta-Jones had her cosmetic dental treatments performed over a number of years. But if you're unhappy with your smile right now, there's no need to wait: Getting a complete "smile makeover" starts with a consultation at our office. How does it work?
We begin with a thorough dental exam to check for any underlying issues, and some basic questions, including: What do you (and don't you) like about your smile? Are your teeth as even and as white as you'd like them to be? Is your smile too "gummy", or do the teeth seem too large or small in proportion to your facial features? Do gaps, chips or cracked teeth detract from your appearance?
Next, working together with you, we can develop a plan to correct any perceived problems in your smile. We've already mentioned two of the most common ways to enhance a smile that's less than perfect: orthodontics for straightening crooked teeth, and whitening treatments for a more brilliant smile. If your teeth are otherwise healthy, both treatments can be performed at any time — in fact, more and more of today's orthodontic patients are adults.
Other treatments that are often used include cosmetic bonding to repair small to moderate chips or cracks in teeth; crowns (caps) to restore teeth with more extensive structural damage; and veneers to remedy a number of defects — including discoloration, small irregularities in tooth spacing, and even teeth that appear too long or too short. Plus, we have even more procedures designed to remedy specific dental issues.
Will having a better smile get you on the "most beautiful people" list? We can't say for sure. But we think you'll feel better about yourself… and people will notice.
If you would like more information on smile makeovers, please contact us or schedule an appointment for a consultation. You can learn more in the Dear Doctor articles "The Impact of a Smile Makeover" and "Great Expectations — Perceptions in Smile Design."