Posts for tag: dentures
By American Dental Professionals
January 13, 2020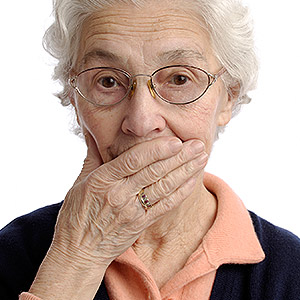 Today's technologically advanced dentures aren't your grandparents' "false teeth." Now made with superior materials and processes, you could almost forget you're wearing them. But don't let that cause you to leave them in for the night: While it may seem like a harmless thing to do, wearing dentures 24/7 may not be good for them or your health.
For one thing, around the clock denture wearing could worsen bone loss, already a concern with dentures and missing teeth. The forces generated when we chew on natural teeth stimulate new bone growth to replace older bone cells. When teeth go missing, though, so does this stimulus. Even the best dentures can't restore this stimulation, so bone loss remains a risk.
And, dentures can accelerate bone loss because of the added pressure they bring to the bony gum ridges that support them. Wearing them all the time deprives the gums of any rest, further speeding up the pace of bone loss. Losing bone volume not only affects your overall oral health, it will gradually loosen your dentures' fit and make them uncomfortable to wear.
Another problem: You may clean your dentures less frequently if you don't take them out at night. Lack of cleaning can encourage bacterial growth and lead to disease. Studies show that people who don't take their dentures out at night have more dental plaque accumulation, gum inflammation and higher blood counts of the protein interleukin 6, indicating the body is fighting infection.
And that's not just a problem for your mouth. Continuous denture wearing could make you twice as likely to develop life-threatening pneumonia as someone who routinely takes their dentures out.
These and other concerns make nightly denture removal a good practice for your health's sake. While they're out, it's also a good time to clean them: Manually brush them for best results (be sure you're only using regular soap or denture cleanser—toothpaste is too abrasive for them). You can then store them in clean water or a solution designed for dentures.
Having said all that, though, there may be one reason why wearing dentures at night might be beneficial—it may help prevent obstructive sleep apnea. If you have this condition, talk to your dentist about whether wearing your dentures at night has more advantages than disadvantages. And, if bone loss created by wearing dentures is a concern, it could be resolved by having implants support your dentures. Again, discuss this with your dentist.
Taking care of your dentures will help increase their life and fit, and protect your health. And part of that may be taking them out to give your gums a rest while you're resting.
If you would like more information on denture care, please contact us or schedule an appointment for a consultation. You can also learn more about this topic by reading the Dear Doctor magazine article "Sleeping in Dentures."
By American Dental Professionals
November 19, 2018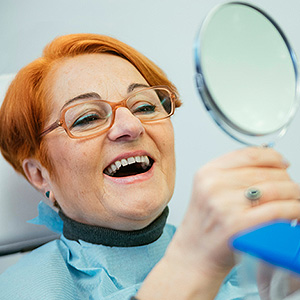 Edentulism, the loss of all of a person's teeth, is more than an appearance problem. As one in four Americans over 65 can attest, total tooth loss can lead to emotional suffering, social embarrassment and a lack of nutrition caused by limited food choices.
But there are solutions like the removable denture, an effective dental restoration for more than a century. In its current advanced form, the removable denture is truly a functional, affordable and attractive way to restore lost teeth.
Creating an effective denture begins first by taking detailed impressions of a patient's gum ridges. We use the measurements obtained from this process to create a plastic resin base colored to resemble the natural gums.  Using old photos and other resources documenting how the patient looked with teeth, we choose the best size and shape of porcelain teeth and then position them onto the base.
Finally, we fine-tune the dentures the first time they're in the patient's mouth to make sure they have a secure fit and a balanced bite when the jaws come together. We also want to be sure the dentures are attractive and blend well with other facial features. The result:  a new set of teeth that can do the job of the old ones and look nearly as real and attractive.
Dentures, though, do have one major drawback: they can't stop bone loss, a common consequence of missing teeth. In fact, they may even accelerate bone loss due to the pressure they bring to bear on the gum ridges. Continuing bone loss could eventually cause their once secure fit to slacken, making them less functional and much more uncomfortable to wear.
But a recent innovation could put the brakes on bone loss for a denture wearer. By incorporating small implants imbedded at various places along the gums, a denture with compatible fittings connects securely with the implants to support the denture rather than the gum ridges. This not only relieves pressure on the gums, but the titanium within the implants attracts bone cells and stimulates their growth.
Thanks to this and other modern advances, dentures continue to be a solid choice for tooth replacement. Not only can they restore a lost smile, they can improve overall health and well-being too.
If you would like more information on dental restorations for missing teeth, please contact us or schedule an appointment for a consultation. You can also learn more about this topic by reading the Dear Doctor magazine article "Removable Full Dentures."
By American Dental Professionals
September 29, 2015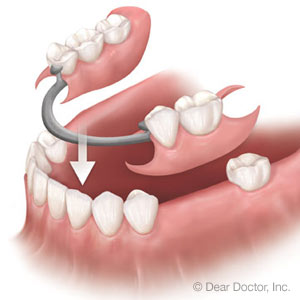 Dentures, removable restorations for missing teeth and gum tissue, can take a number of different forms, but are usually of two different types: complete and partial. A complete denture replaces all the teeth in a given arch. A removable partial denture (RPD), on the other hand, replaces several missing teeth while using the remaining teeth as support.
A common type of RPD formed of plastic is known as a "flipper" because it's lightweight enough to be "flipped out" or moved around with the tongue. They serve an important purpose as a temporary appliance for use between periodontal treatment, implant placement and similar treatments before obtaining a more permanent restoration. In fact, they're often referred to as "transitional" RPDs because they're not designed for permanent tooth replacement.
Because of their low cost relative to other restorations, however, they often become the permanent choice for many people. While a well-constructed, properly fitting RPD in a healthy mouth can be an affordable alternative for people on modest budgets, their long-term use may increase the risk of dental disease and accelerated bone loss. Decades of research verify that people who permanently wear RPDs encounter more tooth decay and periodontal (gum) disease than non-wearers.
This is because the attachment points of a plastic RPD to remaining teeth increases bacterial growth, which can cause both tooth decay and gum disease. This doesn't only endanger the survival of the remaining teeth, it can lead to bone loss that will affect the RPD's fit.
While the better course is to consider RPDs as a stepping stone to dental implants or a fixed bridge, there's an intermediary RPD constructed of cast vitallium or gold alloy that could be considered a permanent choice. These are even lighter weight than plastic and less obtrusive in their attachments in the mouth, which can reduce plaque stagnation and promote a better oral environment.
Regardless of your choice in dentures, it's always important to maintain good consistent oral hygiene with daily brushing and flossing and semi-annual professional cleanings and checkups. Keeping a healthy mouth will help reduce your risk of dental disease and increase your satisfaction with your denture of choice.
If you would like more information on RPDs and other denture restorations, please contact us or schedule an appointment for a consultation. You can also learn more about this topic by reading the Dear Doctor magazine article "Removable Partial Dentures."